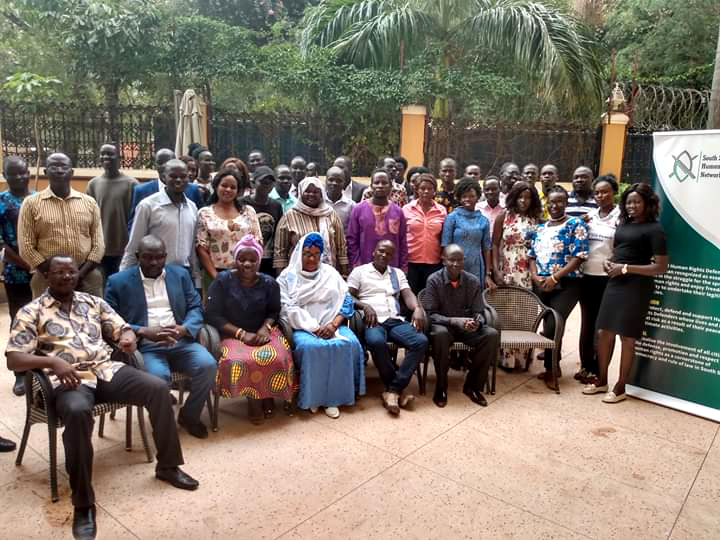 South Sudan Human Rights Defenders Network (SSHRDN) is a non-profit, non-political civil society network that is identified by the Relief and Rehabilitation Commission (RRC). It is a coalition of civil society organizations and individuals working to protect promotion of human rights in South Sudan.
SSHRDN was established as a local chapter of the Pan African Human Rights Defenders Network (PAHRDN) and in collaboration with DefendDefenders all based in Uganda
The Network was set up in 2012 following a meeting of human rights organizations working in the country and registered   as a non- governmental organization in May 31st 2019 and it was launch in June 6th 2019 with a functional secretariat   based in Juba and liaises with regional focal secretariats on activities aimed at promoting HRDs rights. The network has established structures in place to ensure it strategic implementation and oversight of programs. Over this period the Network has registered a lot of achievements as well as challenges including mapping out the member organizations across the states. It currently has a membership of 60 organizations and from all the 7 States in the country with many more looking to join.
As a local Chapter, SSHRDN seeks to provides protection, build the capacity of and create operational space for human rights defenders in South Sudan as a means of promoting human rights and fundamental freedoms to safeguard our democratic principles through concerted participation of all the populace.
The network also seeks to promote the participation of human rights based civil society organizations to research, analyze and pursue strategic interventions through advocacy, campaign to promote and protect human rights defenders in South Sudan.
Our Vision
To have all human rights defenders in South Sudan recognized as essential actors in the struggle for the spread of human rights and enjoy freedom and security to undertake their legitimate activities.